Our Commercial Services
DUE TO THE COVID19- CORONA VIRUS PANDEMIC WE ARE NOW OFFERING FULL DISINFECTANT AND ANTIBACTERIAL CLEANINGS FOR COMMERCIAL PROPERTIES AND OFFICES. THIS INCLUDES TOP GRADE DISINFECTANT PRODUCTS APPLIED ON ALL APPROPRIATE PLACES AND A DEEP STEEM & ROOM HUMIDIFICATION OF DESKS, CHAIRS, TABLES, AND OTHER AREAS APPLICABLE.
PLEASE CONTACT US FOR DETAILS.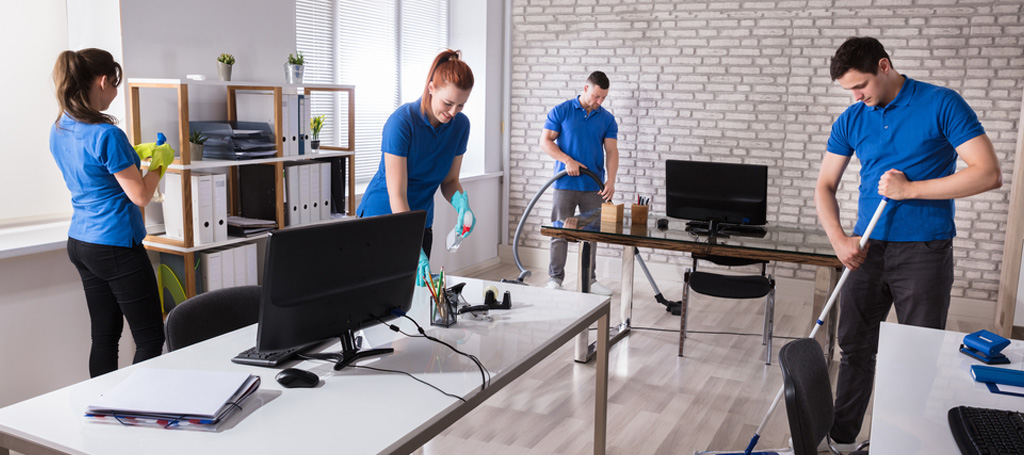 Janitorial & Commercial Maintenance Services
We specialize in commercial cleaning. If you have a office or any commercial area then you must understand the importance of keeping it neat, clean, and organized. We are a 5 star cleaning service that will deliver you 100% customer satisfaction. 
For our office cleaning services. We will wipe down desks, bookshelves, chairs, clean and disinfect toilets, floors and all other surfaces.
You can rest assured that we always have a team of qualified professionals, who will be able to help you achieve your goal of keeping your office as spotless as possible.
Janitorial & Commercial Maintenance Services
No matter what your industry – whether an office building, residential, hotel, healthcare, educational facility, retail, entertainment, industrial or any other, a clean, safe facility is an important part of your business. For businesses that rely heavily on machinery, tools or vehicles, maintaining the highest level of performance of that equipment is a top priority. Having skilled maintenance professionals on hand to properly maintain this performance is crucial, but finding the right personnel for the job can sometimes be challenging. WE ARE HERE TO HELP!
A Better Idea Of Your Office Cleaning Services
* Sweep and mop floors
* Vacuum and mopping all hard floors, cushions etc.
* Dusting desks, furniture, chairs etc.
* Clean mirrors
* Take out the trash
* Cleaning and mopping restrooms with disinfectant
* Empty and clean trash cans
* Cleaning light switches, walls and removing stains
* Removing cobwebs and cleaning windows
Interested in our commercial services?
We're here to help!
Have any questions?
Want a free estimate?
Contact us today!